Blog
Details

Hits: 126
We have just been through a period of unprecedented demand for houses, but now the stamp duty holiday is ending, this autumn could be slightly slower. With this in mind, it is more important than ever to attract potential buyers and, more than that, ensure that your home is everything that a potential buyer is looking for. If your property is on the market and you're not getting the results that you expected, here are seven possible reasons why your home isn't selling.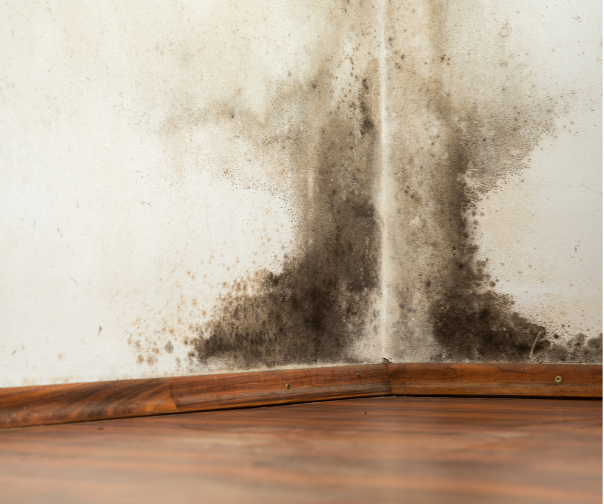 1. Signs of damp
When a potential buyer walks into your home they want to be filled with love and excitement – one sure thing that will turn their vision of dreams into a nightmare is those little black marks that scream damp.  Damp is not one of those jobs you should leave to fate and chance – you need to manage the situation before you place your house on the market.  
We can all get scrubbing in the bathroom and kitchen, and you may have the skills to freshen up grouting around sinks, baths, showers and tiles, but if you know that your damp needs the opinion of the experts, get a survey as soon as you can so you know what you're dealing with.  The best course of action would be to get the works completed all ready before the 'for sale' sign goes up – it's not the best idea to leave these types of jobs for buyers, as they will certainly be looking for a cheeky sale price if you do.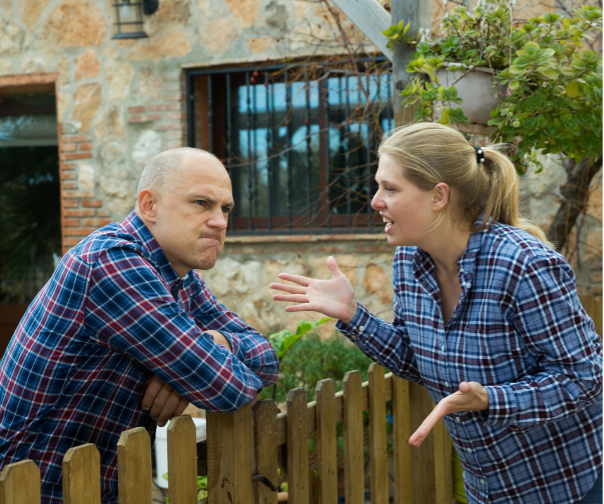 2. Love thy neighbours
No matter how amazing your house is, one thing that buyers will be considering is what your neighbours are like. No one wants to live next to people who are going to make their home life miserable, they want to know that their neighbours are friendly. Don't be surprised if potential buyers pop next door for a quick chat or ask your estate agent questions about what the local community is like.
It is your responsibility – and a legal requirement – to be honest about any issues you have had with neighbours and during the sales process, but don't wait. Be upfront and give buyers the full details when viewing rather than during the sale process – losing a buyer before offers are made is an easier pill to swallow than further down the line when you could lose your next home too.
3. Parking
Let's talk about parking, as we know this is a massive issue for many homeowners whose properties don't have a big enough drive for their vehicles – or no drive at all. If your home doesn't have a drive or parking space, there is no way you can create one, but you can provide information for potential buyers that could smooth over the issue. Where do you park your car? You may have a sneaky spot that buyers would have never considered, or an informal agreement with a neighbour. The buyer may not be familiar with the area, which is why it's a great idea to provide them with details on public transport, as this could answer any questions they have about commuting.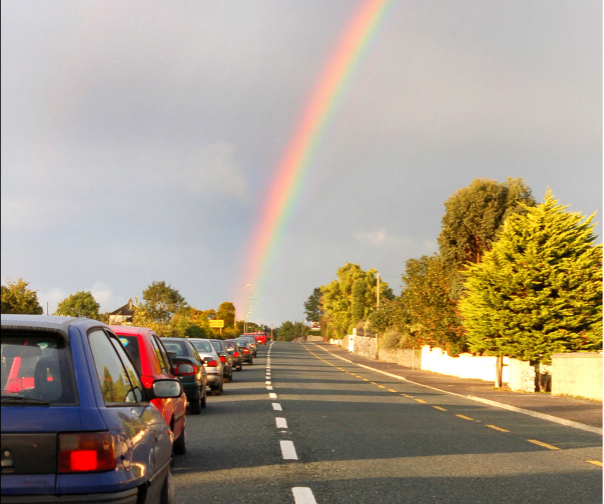 4. Volume of traffic
Location, location, location could also mean that your home is near a very busy road, which is never something that's listed on buyers' wish lists.  Although this could be a negative, what does your home or neighbourhood have to counteract that? Your garden might be a lovely haven where the noise isn't that noticeable; or perhaps the area has a wealth of amenities and facilities, which could increase the appeal of the location. Focus buyers' attention on the positives and they may realise it is a small compromise worth making.
5. A little whiff
Does your home have a unique aroma? It could be from having pets, a hobby or your culinary experiments. There are some smells that help to sell houses – buyers will hear their belly rumble at the smell of fresh bread, or the feeling of cleanliness evoked by crisp fresh washing.  Buying a home is a sensory experience and you need to make sure you take into account your buyers' sense of smell when selling your home.
Give your home a deep clean before you contact an estate agent. Make sure you clean carpets and fabric-based furnishings, such as sofas and curtains, where aromas can linger. Try and place natural scents around your home rather than artificial ones, which can sometimes be overpowering on the nostrils. Fresh flowers, lavender and herbs are the perfect way to add colour and a subtle, natural scent that buyers will love.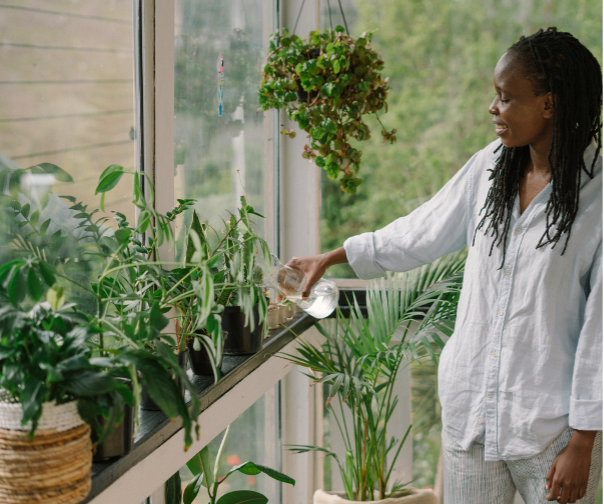 6. No garden
There is no doubt that after having been through a pandemic we all appreciate and desire outside space more than ever before.  If your house doesn't have a garden, it doesn't mean your home is less desirable, provided you make the most of it.  From a tiny patio, a shared courtyard or a lovely balcony with views, whatever space you do have, spend time preparing it for sale. Any space can be transformed with the introduction of plants and flowers and an area to sit and while away the hours.
If you have no accessible outside space, what can you do to bring the outdoors in? House plants have had a resurgence in recent years and can make your home feel like it's connected with a green space. What parks or walks do you have close by?  Highlight these places to your buyers so they know that even if they don't have a private space in the sun, there are plenty of areas around them to explore.
7. Yes, it is all about the price
Selling your home is also all about getting the price right!  Yes, prices fluctuate and so the figure that next door achieved a few months ago could be very different to what your home is worth today. You also need to do your research to ensure you have chosen an estate agent that understands the local property market and has a solid marketing strategy for attracting buyers and selling your home.  If the price of your property is too high, it could be sat on the market a while and may end up having to be reduced further down the line. Getting the sale price of your property right from the start is crucial for a quick and successful sale.
Let's get it sold
Who wants to be pondering why their house isn't selling? Give our team a call, as we make it our mission not just to list houses but to get them sold. Start the process of selling your home by calling Deakin-White.
Details

Hits: 114
Autumn is here and soon the nights and even days will start to get darker and greyer, making our homes feel grim and unwelcoming.  Natural light is one of the few things that your home can't have too much of, especially when you are looking to sell. Light can make any space feel bigger and give a property a warm feeling and a sense of home. There are many things you can do to bring more light into your home without having to undertake a major renovation. We have some great and handy tips for sellers on how to make your home look brighter and, as a result, bigger.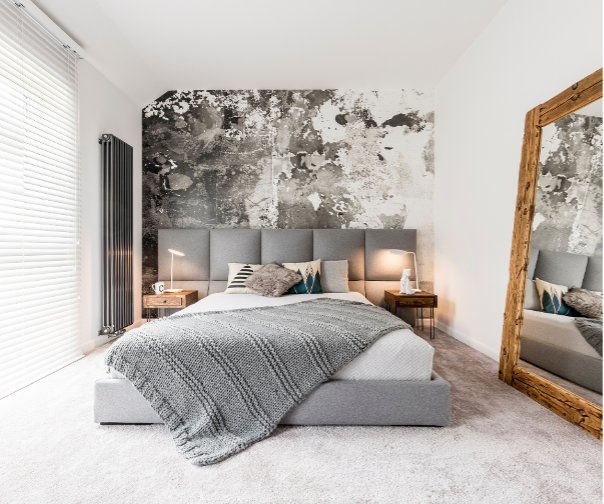 Clever Use of Mirrors and Reflections
Mirrors bounce light around a room and if you place a mirror across from a window, angled right, the natural light will be reflected into the darkest areas of the room.  Mirrors are wonderful for making a room look brighter and more spacious, but so are other shiny and reflective surfaces. In your living toom or even bedroom, think about adding some metallic or mirrored furniture or accents to help reflect light around the room.
Stainless steel appliances in your kitchen combined with sleek white cabinets will make your kitchen look brighter.  In your kitchen and bathroom you could also look at using glass tiles or backsplashes.  In the right conditions, glass tiles will reflect close to 100 per cent of the light that hits them.  Instead of glass, you could also look at highly glossy ceramic tiles as these have nearly the same reflective effect.  When it comes to light reflection, the superior choice of tile is the subway tile but you can't beat metallic backsplash tiles for maximum reflection.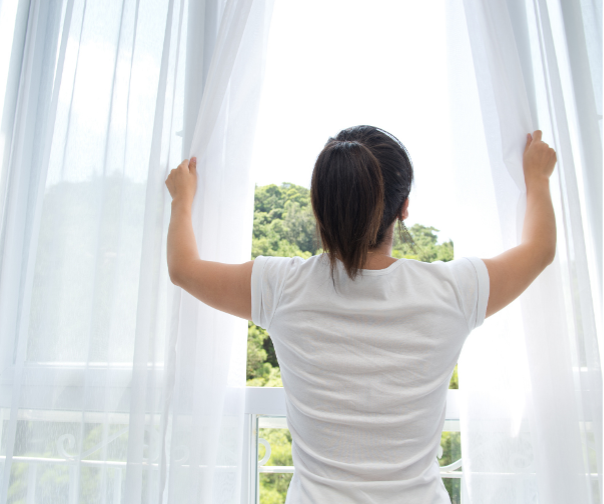 Your Choice of Window Dressing
We use curtains and blinds to block out the light but also for privacy, and even when opening your curtains before a viewing there are some rooms that just won't be able to carry dark velvet drapes without the light being sucked away. Think about swapping your window dressing for lighter shades and make sure that all blinds are fully open before a viewing begins.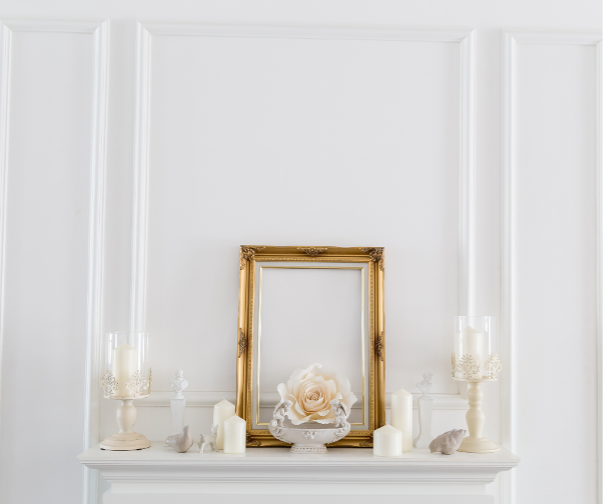 The Best Paint
Your choice of paint can transform any room, making it look cleaner, more relaxing, cosier and, of course, brighter.  It will be of no surprise that neutral shades such as whites and pastels will make a room look brighter, but whilst you're deciding which colour to choose, leave testing splotches on your wall for over 24 hours, this way you will be able to see which looks the best in the differing light throughout the day.
The paint shade you choose for your interior walls is one way to reflect natural light back into your rooms.  Nothing is brighter than a white stain, which will also make your home look clean and fresh.  If you're not a fan of white, look at the varying shades of off white to see if that works better for you. But remember, this is the home you are leaving, so the colour should be chosen to enhance your home's features and attract potential buyers – you can have fun with colour when you are settled in your new home.
Don't forget your ceiling when you're decorating. The reason most ceilings are white is because white reflects light, yet ceilings can often go unnoticed. Choose a matte finish for your ceilings, as this reduces the glare – plus, they don't need the washability of gloss paints because they won't get touched as much or filled with children's wonderful and unexpected art work!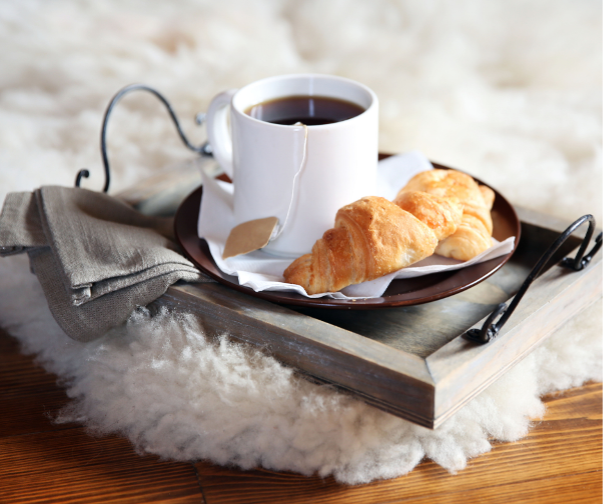 Furniture
Sometimes it can be hard getting light into a dark room without adding a new window – you don't have to go to such an expense, instead play with the light you already have. Angle your furniture towards the light so that it reflects off it, especially if it is pale in colour.  You may not be able to get more sunlight into your room but a large light-coloured rug will help brighten it up, especially if you have darker floors.
Clutter also has a way of draining light from a room and making it feel claustrophobic and unwelcoming.  By decluttering, organising and minimising the amount of furniture you have in a space, it will feel larger and brighter as a result.
Importance of Light
Never forget the importance of light when selling your home, you don't need to knock down walls to make a difference. If you want to understand the difference we can make to your selling experience, give our team a call.
Details

Hits: 142
We can all agree that the last couple of years has been an experience. It has seen us separated from those we love, locked into neighbourhoods, and opened our eyes to what's important.  For many, it has pressed them to make the massive change that is moving house, yet at Deakin-White we have found that there's been one common denominator when it comes to motivation to move. Yes, some sellers may be looking for more space but what we are told again and again is that location, location, location is more important now than ever before.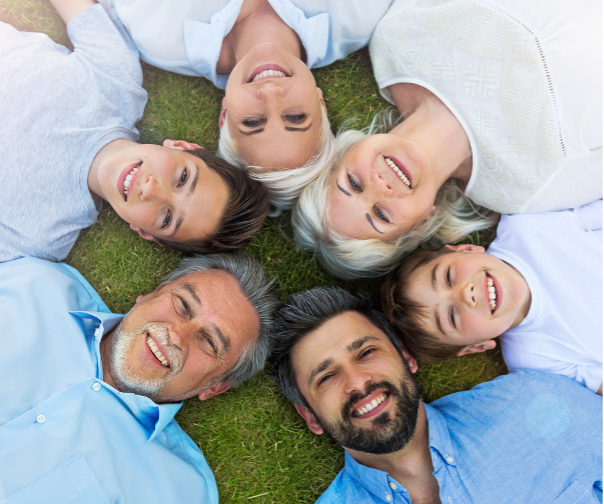 The family incentive
Over the years, decades and generations, many things have pulled us apart – a desire to travel, relocating for work, love and lifestyle. As families, we have accepted living miles apart and coming together for celebrations and holidays. Yet the pandemic, as we know, put a halt to all socialising and travel and meant that, instead of weeks, the time between seeing each other in person turned into years.  This has been the driving force for some sellers to make the move to be closer to their loved ones. We have met with children taking the huge step to uproot their lives to settle closer to their parents, and parents doing the same to be close to their children and grandchildren. 
This desire for physical closeness is a fierce driver home moving, and also a very emotional one. These sellers are not moving because their house has become too big or too small, or because they have fallen out of love with their property or neighbourhood. The reality of leaving what they love can make these moves difficult, but, ultimately, they know that at the end of it they will finally be in easy distance of what really matters in their lives – those they love.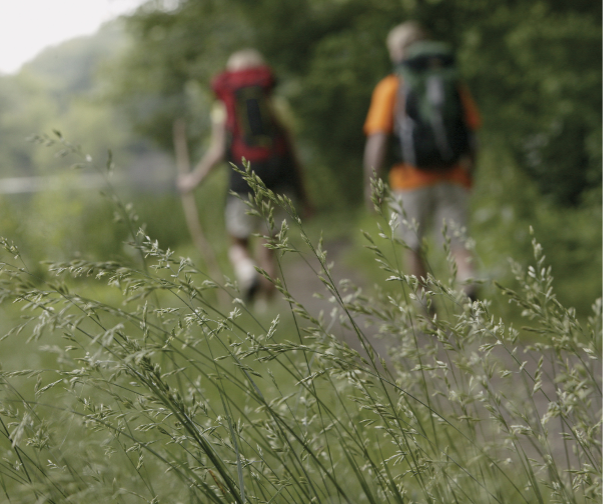 Change in lifestyle
Cities were the hub where all the action happened and, for many professionals, the only place to be should you wish to climb the career ladder. Now there has been a revolution, a change in perspective, a reality check as it were – a realisation that you really can have a work–life balance. With homeworking continuing for many and employers embracing a more flexible working culture, many sellers are leaving the city life to find their calm amidst the chaos.
Lockdown rules encouraged us all to get out and exercise, with many walking more than ever before – according to Tom Platt, of The Ramblers Association, 'People say they will continue to walk more when the Covid restrictions have ended.' It is therefore no surprise that we have found that many sellers are seeking a new home close to walking trails. Whether these sellers are heading for the hills or the beach, they are seeking a lifestyle that is in complete contrast to what they had been living before.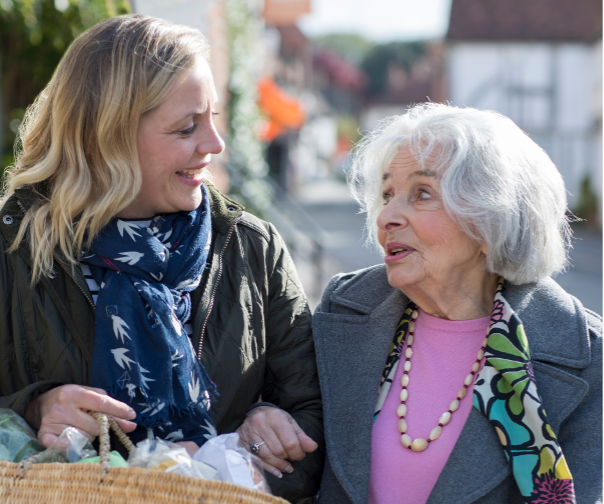 Rediscovering the beauty on our doorsteps
When you are not allowed to travel out of your local neighbourhood, it is amazing how much you discover is available on your doorstep. It's as though your eyes have been opened to a new world, and the streets you once raced down, you now wander and take in slowly, seeing what each store has to offer and what's at the end of that path. If you're house no longer fits, once you have rediscovered the beauty on your doorstop, you may wish a new home but not a new location.
We love meeting sellers who have been reawakened to their little piece of beauty during the last couple of years, and although they feel they are ready to move home for one reason or another, there is one area of their search they will not compromise on, and that is the location.  They have fallen in love with where they live again, and we just love helping them find a buyer who feels exactly the same.
The best position
Understanding why you wish to move is crucial if we are to provide you with the finest service. We can ensure that your location-dictated move becomes a reality and works with the timescale you have in mind. If you're motivated to sell because of location, location, location, contact the agent in the best position to sell your home, get in touch with our team.
Details

Hits: 118
Selling your home is an art, and your success can largely depend on how you prepare your home for sale. Bathrooms really do have the potential to make or break a sale – a new or well-maintained bathroom can say a lot about a home, whereas the alternative screams pound signs, something no potential buyer cares to see.  With the high cost of replacing a bathroom, it is no wonder that how yours is presented could potentially break the sale. Buyers want to see a spa-like sanctuary, a place they can go and relax, so stand in the doorway of your bathroom and ask yourself: is my bathroom aiding the sale of my home?

Unsightly view
We have all seen them whilst flicking through properties online, those bathrooms filled with everyday items and toiletries making the room look far from attractive.  That toothbrush in its holder, toothpaste on the sink – although this is normal life, you have to change your thinking and turn your bathroom into more of a chic hotel setting.  Every surface needs to be clear, with only a small selection of items on display, such as a couple of carefully placed luxury bottles. Get inspiration from hotels, interior magazines and Instagram, where bathrooms are elegantly staged to create a luxurious space that no buyer would want to leave.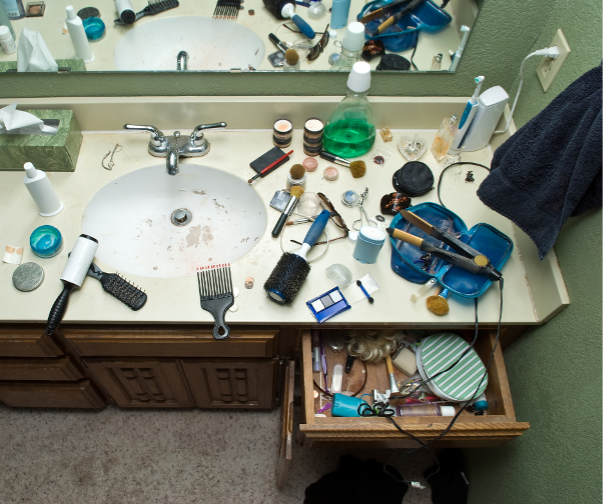 Is there space?

No matter the room, space is always something that buyers crave. If they feel like storage is an issue, it can make them contemplate whether your property is going to be big enough for them. Buyers will naturally want to have a nosey in cupboards, which is why you need to make sure that your bathroom cabinets are clean and beautifully organised. Use baskets or boxes to organise and store items on your shelves, as this gives a clean and tidy look.
Bring back the shine
Of course, a bathroom is going to lose its shine over time, but missing or mouldy grout really isn't that attractive and will no doubt be the first thing your potential buyers see. You would be amazed how quickly they can begin to question the asking price of your property if they don't feel it has been well maintained. Make sure your bathroom is cared for and loved, so that when they start to think about an offer, they will want it to be competitive so that your home doesn't slip through their fingers.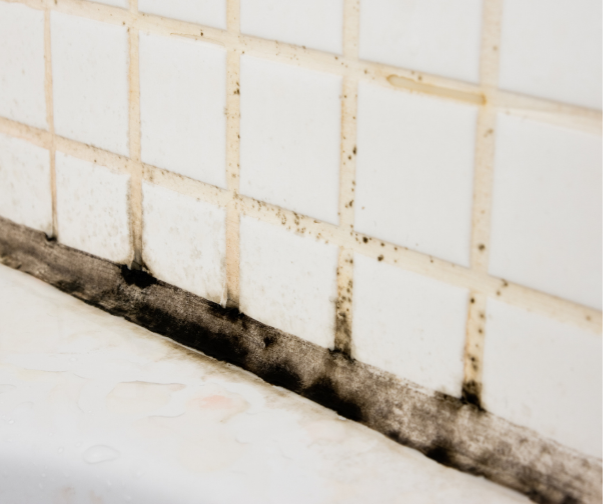 Make it sparkle
From taps to showerheads, from the bath to the sink, every inch of your bathroom should be sparkling clean. Don't forget your shower door – there are some great tools that can keep this looking super clean. If you have a shower curtain, just grab a new one for the viewings – ideally one that is a neutral design and works with the colours of your bathroom.
Fluffy and white
You know when you stay at a nice hotel or resort and they have those gloriously fluffy white towels and bathrobes? When it comes to towels, you want them looking their best for viewings, which is why at Deakin-White we always recommend that you purchase some 'viewing' towels. These brand new white and fluffy towels are only to be put out when you have a viewing, so you know they will always be ready to look their best, even if you have very little notice.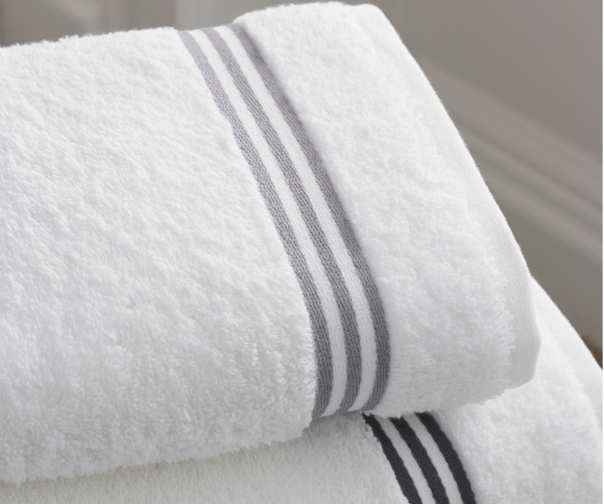 Bring the outside in
One easy way to transform your bathroom is to bring in the outdoors by incorporating plants and natural textures. Plants can also help filter out any toxins that may be in the air, and humidity-loving plants thrive in a bathroom environment. Plants will add colour and personality to a room with very little effort, and you don't need a big bathroom either. But a swell as providing some decoration they are also known to purify the air and release natural oils – they can even lower your stress levels, which is ideal when you are wanting to soak in a long hot bubble bath.
Don't forget the scents
Viewing a property is a sensory experience, your mind is soaking in everything it sees, hears, touches and, of course, smells. When you think of a luxurious bathroom, you want the room to be filled with calming scents such as lavender, peppermint, citrus or rosemary. It's about matching the scent to the vibe and style of your bathroom, as mismatched aromas can confuse the senses. You want buyers to be excited by the ambience you have created.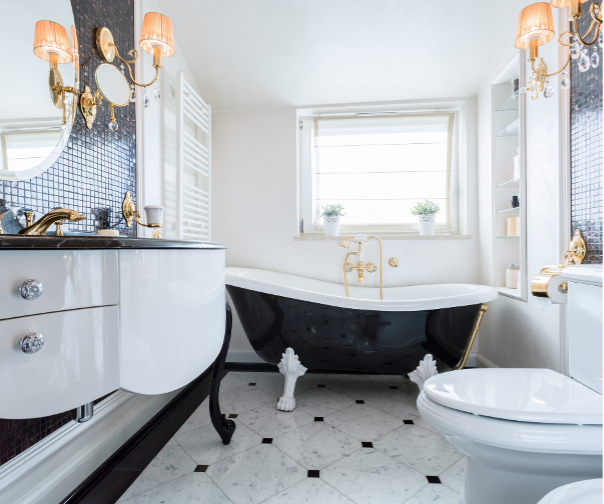 Every room counts
It is essential to remember, when selling your home, that every room counts. If you take time to truly prepare your home for sale, you will reap the rewards in estate agent valuations and subsequent offers. For more advice on how to prepare each room of your home for sale contact our sales team.
Details

Hits: 154
How your home looks from the outside can be just as, if not more, important than how it looks on the inside. We all make first impressions, and when you only have moments to wow potential buyers you never want to miss a trick. Kerb appeal is a term used to describe your home's appeal as you stand and look at it from the pavement. It's that picture perfect moment when your house has the opportunity to scream 'home' to a potential buyer and can have a big influence on their decision to buy or not. Adding kerb appeal is one of the best ways you can get your home ready for sale and we have some fantastic subtle changes you can make to boost yours.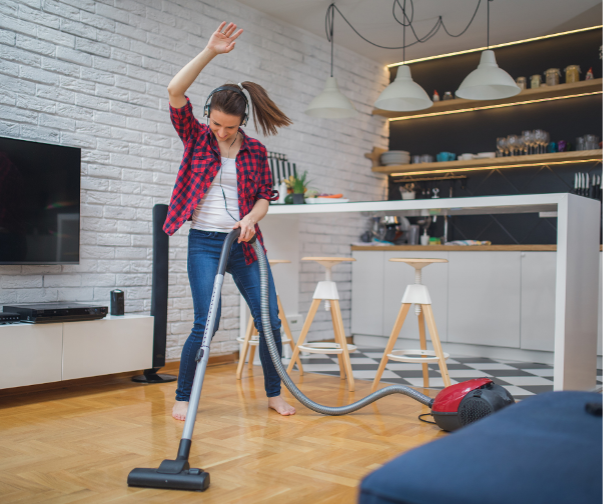 Spring clean
Years of living in a home can easily lead to a build-up of clutter that you don't even realise you have, so before you do anything else, now is the perfect time to spring clean. To successfully sell your home you should never ignore any area, especially the first parts a buyer will see when they arrive on a viewing. Tidy away any weeds, dead plants and shrubs, undertake any repairs and clean away everything that doesn't belong.
Add decorative elements
Old or new, you can give your home character and add a unique touch with a decorative element or two. One of the most popular features over the last year has been outdoor metal wall décor, from signs to symbols – it just adds that little something extra. It doesn't matter if your house opens onto the street or you have an enclosed lawn area, any outdoor space can be transformed with a little imagination and creativity. If you can't place a planter by your front door, what about a window box?
Make a statement
Your front door is the focal point of your home, it's where the eye is drawn when someone passes by and can say a lot about a property. You want your front door to make a statement, one that exudes that what's inside has been lovingly cared for. Ditch any tired façade and freshen up with a good clean and a bold paint colour that is in-keeping with your home's architectural style. Check any covenants in case you need to stick to a required palette, from heritage shades to bright colours, keep it simple.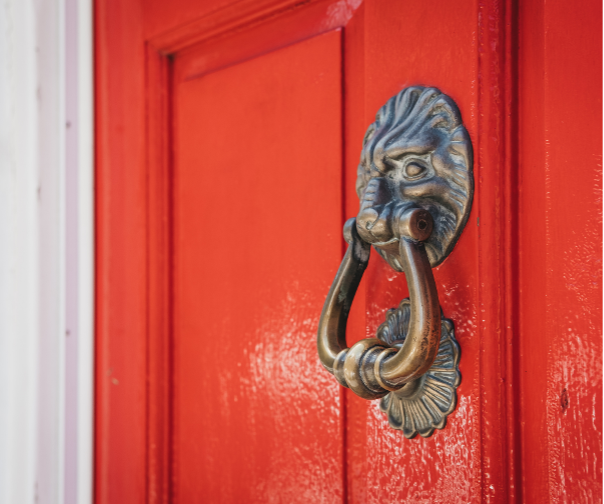 Room for a seat?

There is something about a bench or a seat at the front of a property that adds to that sense of 'home'. This may not be possible for a lot of properties but if yours has the room consider adding a little something, combined with a couple of planters blooming with colour and you've created an area that people will want to enjoy.
Clean your gutters
There is one sure fire way for your home to give a bad first impression and that is through poor house maintenance, such as clogged or dripping gutters. If you are unable to do this job yourself, there are plenty of people locally who can, just ask our team for a recommendation. Potential buyers are drawn to homes that are well maintained rather than those that scream pound signs around every turn.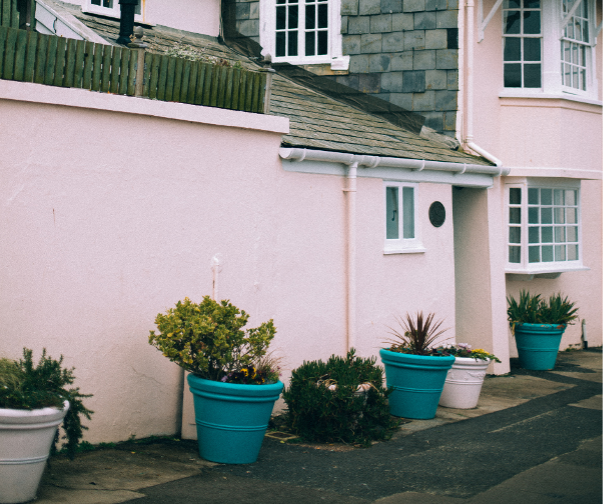 Paint and Power
Our wonderful British weather can make all surfaces look a bit weathered, whether it is a concrete step, a paved drive or a painted windowsill. Freshen up any painted concrete areas so they are looking pristine but make sure the colour matches the exterior or your home. Power wash paved areas – it's amazing how quickly they can start looking like new. Don't forget to clean all your windows too.
A garden in bloom
No matter what the season, you want any garden area to be looking its best, from your lawn to beds to pots, no area should be ignored. Give your lawn some love so that it's looking green and luscious rather than brown and patchy. Invest in some seasonal plants and shrubs that will add colour even during the colder months; presenting a garden that is easy to care for will appeal to a wider range of buyers.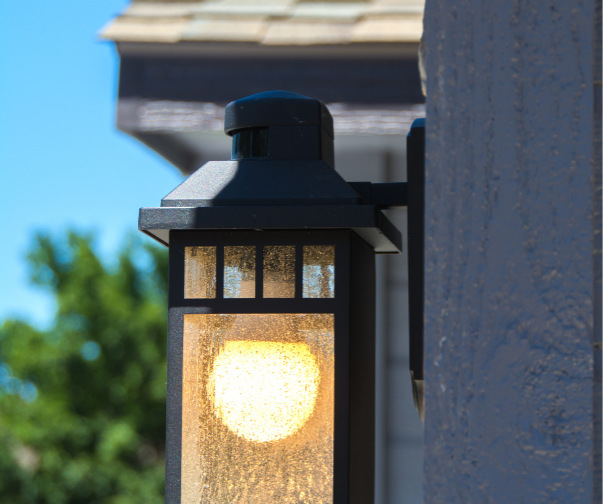 Add a light
The darker months are on their way, and even this summer we have had dark and grey days, so adding a great looking light at the front of your home goes a long way. It can complement the look and feel of your home as well as creating a warm welcome, regardless of what time of day a viewing takes place.
House number
Can you imagine how frustrating it could be for a buyer to not be able to find your home because they can't see the house number? Your existing number could be chipped or faded, so why not upgrade to new digits to really make your home stand out? You could opt for traditional numbers on your door or for a contemporary or slate sign, just make sure it is cohesive with your home's exterior décor.
Attract more buyers
If you wander around your neighbourhood you will notice those properties that command attention and those that fade into the background. Get your home's kerb appeal right and you are bound to attract more potential buyers and get your home sold quickly. For more advice on how to get your home ready for sale, contact our team at Deakin-White.